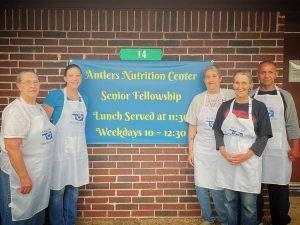 The Antlers Nutrition Center is also known as the Senior Citizen's Center. Seniors are welcome to come for fellowship, dominos, singing, and puzzles from 10:00 AM to 12:30 PM Monday through Friday.
Lunch is served for those over 60 years of age with reservations at 11:30 AM. Home delivered meals are also provided to those who qualify as homebound.  Please call (580) 298-3622 to reserve a meal, or to apply for home delivery.
The Center is supported by the Feed the Need Foundation for Rural Oklahoma and  the City of Antlers.
Located: 248 NW A Street, Antlers, OK 74523
Hours of Operation: M – F 10 AM – 12:30 PM
Phone: 580-298-3622
Site Director: Laura Harwood