The City Judge Amber Duncan oversees the city's judicial system.
City Court: Every 1st Monday of each month (unless it falls on a holiday) at 8:30 AM at City Hall.
The Antlers Court Clerk records traffic citations, accepts monies for citation fines, bail bonds and impound fees, and prepares warrants and court dockets.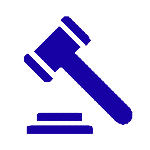 For information on City Court dockets or questions on citations, warrants, or bail bonds, contact the Court Clerk.