The City Judge Amber Duncan oversees the city's judicial system.
City Court: Every 1st, 3rd, and 5th Monday of each month at 8:30 AM at City Hall.
The Antlers Court Clerk records traffic citations, accepts monies for citation fines, bail bonds and impound fees, and prepares warrants and court dockets.
Active Warrant List: https://cityofantlers.com/wp-admin/post.php?post=1464&action=edit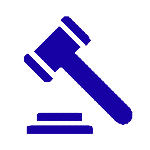 For information on City Court dockets or questions on citations, warrants, or bail bonds, contact the Court Clerk.